Electrosoft provides full lifecycle services to help organizations implement, manage and operate cost-effective programs. Since 2001, we have applied our core competencies in successful engagements, fulfilling the complex IT and cybersecurity technical program requirements of organizations in the Federal and commercial sectors. Electrosoft employs its own Electrosoft-Execute Project Management Process (E2PMP), which applies best practices to initiate, plan, mobilize, control and report on project performance. E2PMP ensures project success by supporting crucial requirements and client goals.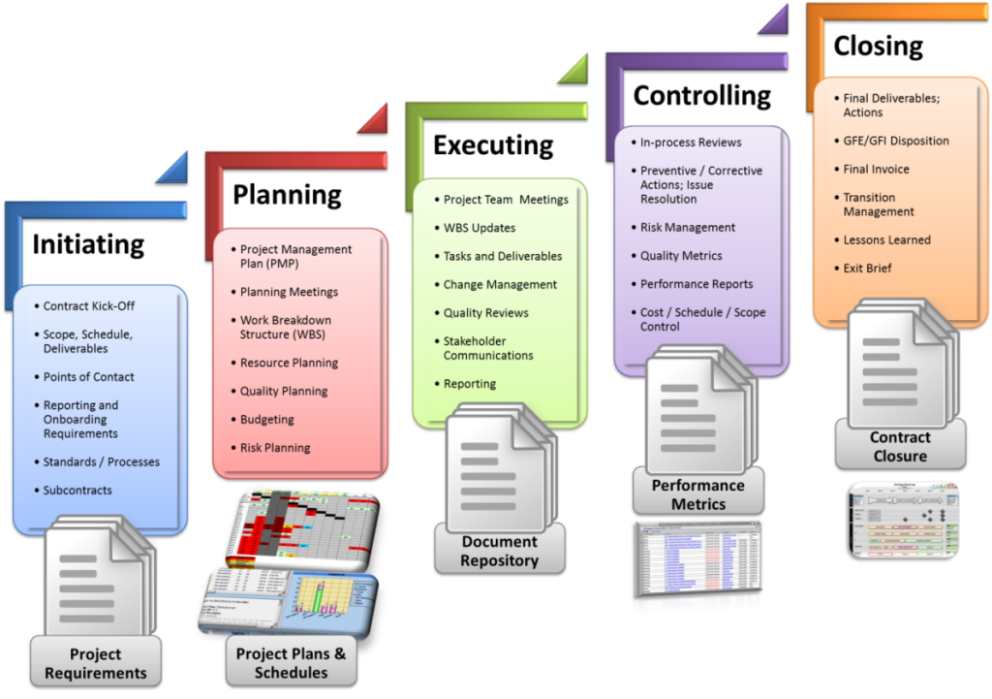 Program Planning/Oversight; Metrics
Electrosoft implements a proven methodology to successfully manage communications, tasks and deliverables, quality assurance and compliance. We integrate specific task requirements and schedules into a cohesive project plan that allows all team members to understand where their efforts fit in the overall picture.
Metrics serve as a powerful management tool for evaluating program effectiveness. Electrosoft uses program metrics such as variance between planned and actual schedules, resource consumption and completion of tasks and deliverables. Customers benefit from our philosophy of establishing discrete checkpoints to determine program health, using accurate measurements and employing open, proactive communication.
Advisory and Assistance Services
Electrosoft collaborates with customers to identify ways to improve the organization's services and operations through effective application of people, process and technology. Our subject-matter experts provide an independent perspective on complex issues and provide options and recommendations for success. We help managers achieve maximum effectiveness or economy in their operations.
Enterprise ERP
Electrosoft implements Enterprise Resource Planning (ERP) solutions for large, complex Government and commercial organizations using mature project management models combined with technology-specific deployment methodologies (e.g., Accelerated SAP). Our ERP project managers hold certifications such as PMP, SAP training, Six Sigma Lean Black Belts and Scrum Master (CSM). The Electrosoft approach to ERP solution deployment includes 12 steps: Initiate, Determine the Business Policy and Rules, Design the Solution, Configure the System, Develop the Code, Prepare the Data, Test, Map User Roles, Train Users, Deploy, Stabilize and Optimize.
Independent Verification & Validation
Electrosoft builds verification and validation frameworks and conducts assessments to assure that products and solutions meet functional, security and quality standards. Our customers benefit from our holistic Independent Verification & Validation (IV&V) approach. It incorporates rigorous requirements-driven testing complemented by assessments designed to determine how well the target product or solution meets the end-user community's mission goals and requirements.
Stakeholder Liaison; Education and Training
Electrosoft provides effective training, communications and stakeholder engagement support to our customers. Our approach promotes educational activities, open communications and sharing of ideas. We socialize outreach strategies using social media, websites, public relations materials and forums such as Industry Days.
Web Portals and Workflow Tools; Help Desk
As part of our implementation services, Electrosoft establishes help desk functions. We provide a single point of contact to help customers with program and technical issues via phone, email or website. Our help desk not only offers efficient responses to user requests but also solicits feedback to identify opportunities for improvement.
RELATED CLIENTS